Jerry Breuss and Kathy Kumorek
Wedding Web Page
May 17, 2003





MARK YOUR CALENDAR

Kathy and Jerry's 25th Wedding Anniversary - May 17, 2028
50th Wedding Anniversary - May 17, 2053

"I desire to become all that God wants me to be for you"--Kathy & Jerry

WELCOME 2003 - A LETTER FROM THE BRIDE AND GROOM

…..It's a year of unlimited possibilities including our wedding day, May 17, 2003.

We look forward to celebrating this day of love and family with you.

To connect you with information and people as we count down to our BIG day, we have developed the following web site at: www.breussfamily.com

2002 was a memorable year for us and our families with many blessings including:

Winter
-Our engagement occurred last year on 02/02/02 after enjoying an Eagle Hike in Bettendorf, IA on the banks of the mighty Mississippi River. We toasted with our "bluebirds of happiness" cups as the sunset. We found a perfect, quaint restaurant to celebrate our first meal as an engaged couple overlooking the Mississippi River called Stevenson's (web site: www.stevenson.com)

- Then we traveled north to Galena and stayed at the Eagle Ridge Resort which had on display an Eagle Ice Sculpture in the dining room, keeping with the eagle theme which was very well planned.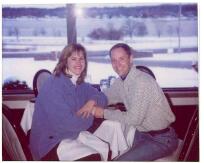 xoxoxox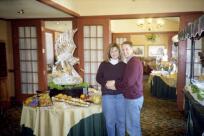 -Attended Jim Brickman concert and enjoyed a romantic dinner to celebrate Valentine's Day Chicago style!

-Enjoyed hosting two Motorolans from China, Susanna and Cynthia, as we sampled the best of Chicago and its suburbs along with sharing family / cultural traditions (Gino's Pizza, Hard Rock Café, Museum of Science and Industry, Port Edward). We even had a lesson on making Chinese dumplings!! We have made life-long friends and will always treasure those memories.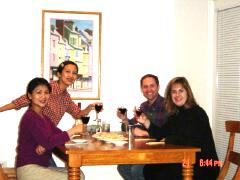 Spring
-Kathy gathered with her junior high girlfriends for the 6th annual girls getaway at Illinois Beach Resort. They hiked, shopped outlet malls, enjoyed swimming, and sharing pictures and stories from past outings. Even with the strong winds off the lake, they were determined to enjoy the bonfire.

-Jerry participated in Junior Achievement through Motorola where he taught 4th and 5th graders the value of free enterprise, business, and economics. As a thank you, the students presented a video to Jerry of lessons they learned.

Summer
-A trip up North to Canada was taken in May. We drove around the shore of Lake Huron camping out in the Bruce Peninsula National Park overlooking the Georgian Bay. We visited with friends in Midland, Ontario where Jerry lived for 3 years. We boated thru the 30,000 islands of the Georgian Bay on Steve and Irene's boat, camping out on the boat near the Big Chute Marine Railway. We visited "St. Marie Among the Hurons" and Martyr's Shrine visited by the Pope in 1982. On the return trip home, Kathy and Jerry visited Frankenmuth for a Polish / German Festival, then met up with "Tony the Tiger" the next day for a "Great" breakfast.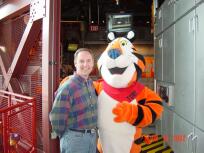 xoxoxox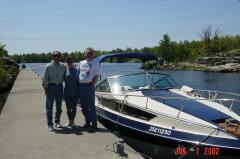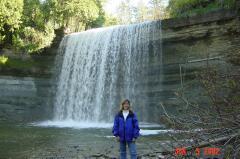 xox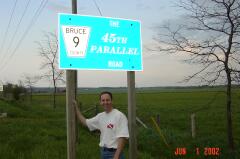 -We met the Breuss family at Table Rock Lake, Missouri for some rest and relaxation, fishing, and jet skiing. We enjoyed sitting on the swing overlooking the lake to watch the sun set. As we headed back, we stopped at Tan-Tar-A, a family vacation spot for the Kumorek family as kids.

Fall
- Escaped to view the fall colors in Door County,WI to celebrate the 10 year "Life is Good" tour. The trees were very vibrant and we enjoyed gathering around the campfire as we roasted s'mores.

-Kathy was excited to work with a team from Motorola's Women's Business Council to kickoff a Mentoring Lunch and Learn Series. Mentoring is much more than finding a mentor but recognizing the 'mentoring experiences' in your everyday life.

Throughout 2002 as a couple, we enjoyed spending quality time with family, including Mr. Kumorek's retirement. We enjoyed gathering with friends for game nights, barbecues, Focus 2002 conference, and an annual St. Patrick Day party.

We also sponsored the first annual "Reason for the Season" volunteer outing on December 8, 2002 by planning a holiday celebration for our guests at a local homeless shelter. Family and friends served homemade dessert, provided holiday music, decorated the site with pictures made by the kids, and provided a gift bag to put by their shoes to celebrate St. Nicholas Day.

Singing Christmas Carols and receiving homemade cards from the kids were favorite memories shared with our 36 guests for the evening. We definitely received much more in return from our guests who remind us of the many blessings in our lives.

May we share the joy of the season every day throughout 2003.