Greetings from Kathy, Jerry, & Jenna - 2009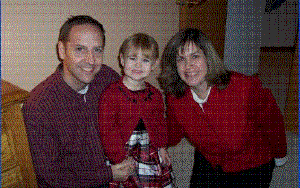 .
Celebrating a Year of Joy and Surrender !
As we reflect on this year, we are grateful for the many JOYS shared with Jenna, family, and friends and for the blessing of fortitude to face challenges with hope and trust.
The "first seasons" of 2009 brought valued quiet and family time. Jenna had multiple febrile seizures requiring visits to hospitials and doctors for tests through April. We praise God that she has been free of febrile seizures since last January and trust that she will outgrow them.

One of our favorite Jenna moments during this time was when we went to St. Alexius Medical Center. When we approached the Main Entrance, there was a very tall Jesus statue that welcomes you to the hospital. Jenna exclaimed, "Wow! Look at our Big Jesus!" She shared a powerful reminder to Jerry and I that we have Jesus who loves and cares for us, remaining by our side regardless of how "big" or "small" our needs.

This spring, Jerry began praying and searching for his next job opportunity after working for Motorola for 15 years. We are grateful for the many doors that opened expecially opportunities to meet many talented people through various organizations with a genuine care to help and encourage others (ie. Our Parish family and various Work Ministry Programs, Career Centers, Job Circles, Professional Development meetings/workshops, and Toastmasters.)

In March, Jerry was grateful to attend our parish "Light of the World" retreat and be part of the team while reflecting on God's will for our family. (www.lotwem.org)

A "new door" opened in July for Jerry to pursue consulting at Abbott Laboratories as a business analyst implementing a Pharmacy Solution for specialized customers that concluded in October. He also participated in the Field Day exercise with Motorola Amateur Radio Club to promote emergency preparedness. See video of the day and visit from Jenna: (www.tiny.cc/K9MOTfielday2009)

During this year and as we await Jerry's next opportunity for the New Year, attending mass more frequently, adoration, confession, and the love and encouragement of family and friends has strengthened our family and helped us keep a positive, hopeful perspective to bear the sacrifices and be grateful for our many blessings.

Jenna enjoyed opportunities to explore gymnastics, swimming, and "Mommy & Me" dance class. She likes to learn through music and decorates our home frequently with her art projects. Jenna enjoys doing puzzles and playing the organ when visiting Grandmama & Papa Kumorek and flying a kite along with baking Christmas cookies for the first time with Grandma Kay.

Kathy started some homeschooling fun with Jenna this spring, enjoyed watching Jenna help mommy babysit, and spoke at a couple of MOMs groups about two treasures of our Catholic faith, Eucharistic Adoration and the Divine Mercy Devotion. In the fall, Kathy traveled to La Crosse, WI to visit the Our Lady of Guadalupe Shrine and also enjoyed a family outing to the La Salette Shrine for the "Festival of Lights" in December.

We enjoyed many family adventures together especially spending special time with family and friends as our photo collage will portray even better than words. Jenna's favorite outings included Brookfield Zoo, going to the "Bell Tower" at the Chicago Botanical Gardens, riding the choo-choo at the Royal Oaks Farm, and hiking at various Nature Centers after some puppet/craft time together.

We are thankful to our Lord for growing our trust in Him and offer prayers for others who also seek strength and hope. May He also bless a joint campaign to welcome others home to the beauty and appreciation of the Catholic faith. (http://www.catholicscomehome.org/)

May 2010 be a year of peace & joy for you and those you love!
A Prayer for Baby Jesus (By Mary Lou Andes)
Little Baby Jesus, sleeping on the hay,
Please listen, Baby Jesus, to what I have to say.
I know you are God's precious Son, whose love will never end.
Happy Birthday, Jesus! You are my special friend.
I want to ask you for a gift for families tonight.
Fill their homes with peace and love. Bring them all your light.
Give all the children of the world, a brand new set of eyes,
To hope and dream of what can be, to choose what's good and wise.
Give the world a brand new start, where we can all be friends.
Joining hands around the earth in love that never ends.
Finally, Baby Jesus, we pray that we may be,
Mirrors of your shining love, for all the world to see!
AMEN!
Photo Collage - 2009 "Seasons of Blessings"
Winter
| | | |
| --- | --- | --- |
| Happy Birthday Cake for Jesus | Train Trip to Winter Wonderland | Jenna Ballerina |
| Everybody Dance! | A Sweet Treat for Grandmama | Say Cheese! |
| A Valentine Smile | Cuddle with Grandma Kay | Prayer Time |
Spring
| | | |
| --- | --- | --- |
| Taking Care of Baby | Jenna the Cowgirl | Nature Time Together |
| Japanese Festival at Botanical Gardens | Rocket Time | Easter Chickie |
Summer
| | | |
| --- | --- | --- |
| Singing Jenna | Little People Playtime | Puppet Time at Nature Center |
| Gymnastics Time | Giddy Up & Smile | Painting a Bird House |
| Daddy & Me | Papa & Me | Bambi & Me |
| Let's Play the Organ! | Summertime Smile | Birthday Sundae |
| Tigger & Me | Family Party | Tigger Time in 4 Acre Wood |
| Jenna's 3rd Birthday Collage | Flyin' High in My Airplane | I Play the Violin Like Mommy |
| This Little Light of Mine... | Snowstorm in Summer | Cat in the Hat Dance |
| My Horsey at Woodstock Square | Treat at Parish Picnic | Home on the Range |
Fall/Winter
| | | |
| --- | --- | --- |
| Fall Hello | Soccer Smile with My Godmother | I Love Trains at the Farm |
| A Smile with My Godfather | I Love Pickles! | My Cousins & Me |
| School Bus with Mommy | A Pumpkin Smile | Winnie the Pooh Smile |
| My Pumpkin | Let's Smile for Ice Cream! | Mommy & Me Dance Class |
| Breuss Family Thanksgiving Reunion | Rockin' with Jack | St. Nicholas & Me |
| My Advent Wreath | Cookie Time with Grandma Kay | A Joyful Time in the Snow |
Christmas Smiles by Year
For more smiles shared with family & friends throughout the year, browse our Photo albums available at our website(s):
http://breussfamily2008.shutterfly.com/
www.kathyjerrybreuss.shutterfly.com
Jenna's 2nd year video and Blog: www.jenna.breussfamily.com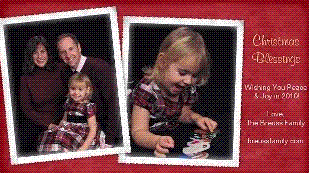 Have a Blessed Year