Greetings from the Breuss newlyweds!
2003 has been a year of many blessings! A year of wedding planning, showers, baptisms, first communions, graduations, moving, working at Motorola, studying, babysitting, volunteering, relaxing getaways with friends and family, and of course, weddings!
Our families "showered" Jerry and I with so much love at spring/garden-themed bridal showers. On May 17 (our wedding day), I married my best friend. It was a celebration of God's love, family, and friendship (Check out wedding memories in our photo gallery) Each moment was a GIFT.
Enjoying favorite Polish-German dishes at our rehearsal dinner at the "Bohemian Crystal";
Watching the memory video to celebrate our lives and families coming together (Thanks for sharing your creative talent, Karen and Jon!);
Walking down the aisle and dancing with my dad;
Seeing the smiles of our families and friends as we walked down the aisle;
Taking the time "to smell the roses" in the beautiful gardens of Cantigny for our bridal party pictures;
Watching Jerry's face as he heard for the first time "Heaven's Answer," a special song written and performed at our wedding reception by Liz Bell and John Werle;
Hearing Jerry's loving toast to his new wife;
Jerry sharing a dance with his mom to a special song from his parents engagement, "Unchained Melody";
Kathy's mom "dressing" her daughter with an apron as guest circled the bride and groom with their love;
Dancing and spending time with our family and friends;
Driving our newly decorated Breuss-mobile courtesy of "The Cousins."
We are very thankful for my parents who provided a memorable celebration to start our married life. We are also grateful to Jerry's parents who by their example taught Jerry to be a loving, encouraging husband.
If you want to experience a slice of heaven, visit Hawaii. Jerry and I "honeymooned" in Oahu, Kauai, and Maui for two weeks and shared the sunrises, sunsets, beaches, an unforgettable helicopter ride of Kauai, Waimea Canyon (The "Grand Canyon" of the Pacific), the bumpy and winding roads to Hana and Polihale Beach, the Seven Sacred Pools, the heavenly Haleakala sunrise, a beach luau at sunset, snorkeling & diving at Molokini, and simply cuddling in a beach hammock (Check out our Hawaiian paradise in the photo gallery)
Besides our honeymoon, we enjoyed quality time together as we escaped to Two Rivers/Port Washington, WI for camping with friends, Minneapolis-St. Paul, MN for a wedding, Starved Rock to enjoy the fall colors, and Navy Pier, Chicago for the "Catholic Festival of Faith", a weekend gathering to celebrate the diversity and unity of the Catholic faith through music, workshops, and its people.
We also welcomed a new nephew, Jack Casey Vest this fall! He is a little miracle – I love being a first time aunt! (Check the photo gallery for our favorite family pictures)
I am proud that I married a "HAM," an amateur radio enthusiast!! He worked Motorola's 75th year anniversary contest (www.N9GGO.com) and has started a club at Motorola's Libertyville location with over 30 members!
Besides managing multiple IT projects at Motorola during the day, Jerry has been busy completing his classes at night to get his Master's in Program Management.
After doubling up classes to start his 2004 term, Jerry will take his final core class starting in March, 2004, which means we will be celebrating Jerry's Graduation in June, 2004!
We were also fortunate to share our love of learning together by attending the Dale Carnegie class sponsored by Motorola. We have developed special friendships with Motorolans from various sectors while practicing skills to "communicate with impact, " "win friends and influence people," and "stop worrying and start living."
Besides working with innovative product teams to deliver next-generation phones, I followed my "passion" by working with the Motorola Diversity Councils to sponsor Motorola's 2nd Annual PCS Food Drive to benefit United Way local charities. I was also lucky to work with a team of inspiring women from the Women's Business Council to implement a Lunch and Learn series based on the book, "Hard Won Wisdom" to share lessons learned on having vision, persevering, and balancing work/family. In December, our friends and family collaborated to share their special gifts along with goodie bags, homemade cards, favorite Christmas carols, desserts, and smiles at the 6th Annual "Reason for the Season" celebration at a local homeless shelter in Naperville.
As we gather to celebrate Christ's birth, we are reminded of the "miracles" of love we have been blessed with this year and how much we are thankful for YOU in our lives.
From our family to yours, may the peace and joy of the holiday season be with you always! Have a healthy, blessed 2004!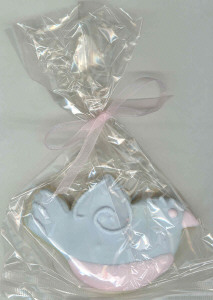 We found our "Bluebird of Happiness"